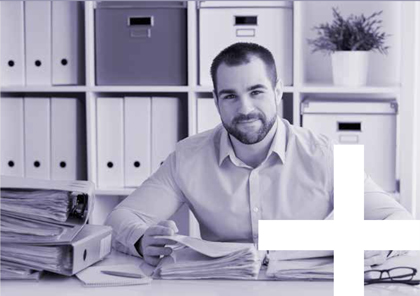 Accounting & Bookkeeping+
Ready to solve your accounting, bookkeeping and payroll needs.
When Henry & Peters supports your accounting and bookkeeping needs it means you have reliable and available experts working for you so you can focus on business operation and save employment costs for your company.
Your accounting department that is always available.
Henry & Peters handles all of the accounting needs of small and medium-sized businesses, including financial  statement preparation, payroll processing, tax reporting, and more. With our staff working for you, your accounting department will always be up and running.
Whether your business is growing or you are going through a transition, Henry & Peters' Account Solutions department is staffed with highly qualified accountants, Certfied QuickBooks® ProAdvisors and CPAs who learn your business and provide exemplary service based on your unique preferences and needs. The breadth of background experience in our team means your business will benefit from specialized knowledge and out-of-the-box accounting solutions.
Financial Statement Preparation
Monthly and Year-End Closing & Analysis
Account Reconciliations
Accounts Payable Processing
Accounts Receivable Processing
Payroll Processing
Payroll Tax Preparation and Filing
Sales Tax Reporting
1099 Preparation
IRS Notice Response Assistance
Payroll and Sales Tax Audit Support
Contingency and Emergency Support
New Business Accounting Set Up
We believe that having the right financial reports is key to helping you manage and build a successful business, but we see that many businesses lack expertise in house to provide this. Henry & Peters has the expertise and experience to prepare customized financial reports. Our goal is provide you with what you need to run your business efficiently and successfully so you can spend your time and energy building your business. We can help your business identify areas for improvement and provide practical and sound solutions to address those issues.
Compilations
Income statements
Balance Sheets
Cash flow statements
Statement of retained earnings
Job Cost Reports
Department Profit & Loss
Other Management Reports
Intuit QuickBooks® offers comprehensive accounting software to track day-to-day operations and financial transactions efficiently and effectively. QB also allows for payroll processing, 1099 tracking and processing and preparing your books for taxes. Our team consists of Certified QuickBooks® ProAdvisors offering assistance to business owners and individuals to install and train to use QuickBooks®. The Accounting Solutions team at Henry & Peters is ready to support your set-up and other needs:
Purchase QuickBooks®
New Company Files
Payroll with QuickBooks®
Inventory/Sales
Custom Reports
Existing data File Clean Up
Training for QuickBooks®
Troubleshooting for QuickBooks®
We want to make sure you spend your time managing your business, not struggling with your accounting software.
*Intuit, QuickBooks, and QuickBooks ProAdvisor are registered trademarks of Intuit Inc. Used with permission under the QuickBooks ProAdvisor Agreement.
"They patiently answered our questions and have trained us to do much of the accounting ourselves."