Our methodical approach provides detailed insight for you.
In every audit engagement we devote considerable time and attention to planning in order to provide the staff and tools that best meet the specific needs of the client and situation. As well, we assess internal accounting controls to ensure efforts are appropriately focused.
If you're preparing your business for a merger or acquisition or wish to request a line of credit from a financial institution, an audit will likely be requested or required by the other parties involved. Essentially, an audit provides an expert, unbiased opinion about the financial state of your business and the appropriate presentation of your financial statements.
Audits must adhere to generally accepted auditing standards to produce an opinion as to whether financial statements are presented fairly in accordance with accepted accounting principles or another comprehensive basis of accounting. They must also include a full risk assessment, evaluation of internal controls, testing of individual transactions, and confirmation of key balances.
Henry & Peters conducts external audits for a wide array of businesses and entities and employs a practical, professional approach that is centered on communication. Throughout the audit process, we gain an understanding of your entity which allows us to improve the quality of the information used to make decisions in your business. We also provide teams of professionals with diverse backgrounds and experience who can deliver insights and advice on your business that go far beyond the annual audit. We believe this is the most valuable aspect of our audit service and it is our goal to assist our clients in making financial planning decisions that will benefit them in the near and long term.
Like an audit, reviews are performed under strictly defined standards and provide limited assurance on the financial statements. A review will analyze financial accounts to produce a set of reviewed statements and footnotes. However, unlike an audit, there is no testing of individual transactions or confirmation of key balances, which equates to time and money savings to you.
Henry & Peters also offers compilation services to assist your entity's management with presenting financial information in the form of financial statements, without undertaking to provide any assurance that there are no material modifications that should be made to the financial statements.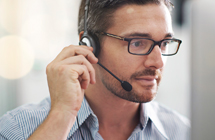 Fraud is a serious offense with far-reaching impact. If you have concerns related to accounting, auditing, internal controls, financial reporting, misappropriations, or any other form of financial misconduct, dishonesty or fraud, we encourage you to speak to one of our Certified Fraud Examiners.

Contact Us
"They are always professional and courteous, answering my countless questions and helping me keep my company's finances running smoothly."