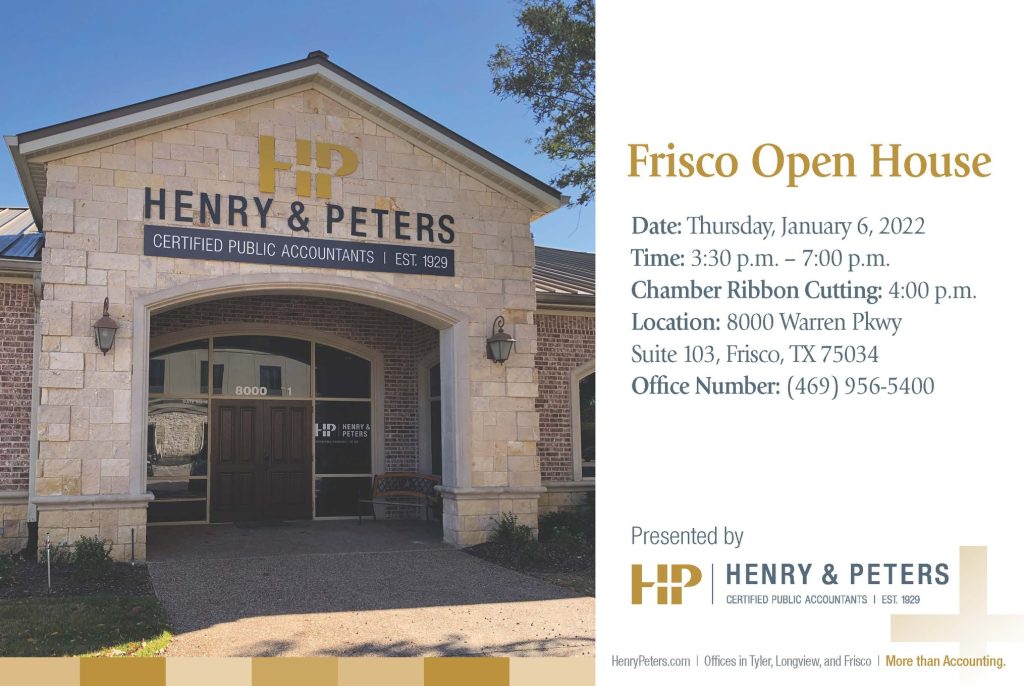 FRISCO – Henry & Peters is pleased to announce the launch of a new office in Frisco, Texas. The 92-year-old accounting firm is headquartered in Tyler in East Texas with a second office in nearby Longview. The new Metroplex office is the firm's third location, ready to serve clients in Frisco and surrounding communities.
"We are excited about the launch of our new office in Frisco. Henry & Peters is a perfect fit for the community," said Jim Gomillion, Henry & Peters' Officer, now serving from the Frisco office. "We offer a variety of tax, audit, accounting and consulting services to small and mid-sized businesses and individuals.
"We pair all our services with one-on-one attention and strive to always be responsive to our clients' needs. This is something our clients say Henry & Peters is well known for."
Henry & Peters will host an open house at the new Frisco location from 3:30 p.m. to 7 p.m. Thursday, Jan. 6. Officials from the Frisco Chamber of Commerce will host a ribbon cutting ceremony at 4 p.m. To RSVP for this event, contact Jaclyn Kostrzewa at [email protected].
About Henry & Peters:
Henry & Peters opened its doors in 1929 and is now a Public Accounting Firm with more than 120 employees. The firm provides comprehensive accounting services and specializes in tax planning and audits. At Henry & Peters, known for its excellent customer service, communication and client partnerships, professional staffers bring a wide variety of industry experience to set the firm apart. The company is known for providing actionable, applicable financial assistance.
Henry & Peters is always seeking qualified professional candidates to fill open roles in Tax, Audit, and Accounting Services. Anyone interested in learning more about career opportunities should visit the 'Careers' page at henrypeters.com.