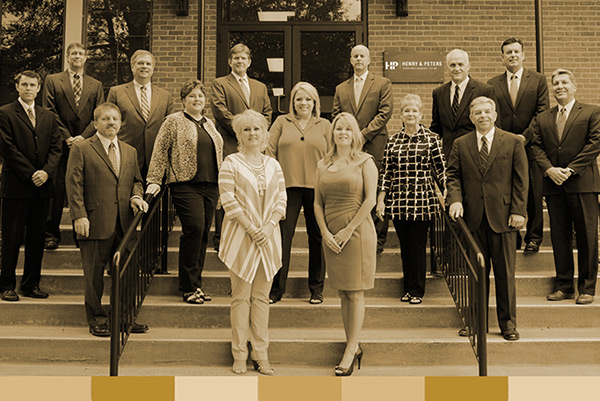 Our mission adds up to our commitment.
Henry & Peters, P.C.'s vision is to be your partner for accounting, tax and consulting services – recognized and respected for our commitment and contribution to the long-term success of our clients, employees and community.
In 1929 Lester Henry founded the accounting firm that would become Henry & Peters, P.C. He was joined in 1936 by his brother-in-law, Robert K. Peters, following the start of the East Texas Oil Boom and a surplus of work.
Since 1929, Henry & Peters has worked to understand clients' needs in order to exceed expectations without compromising the viability of the firm or its people. These accomplishments are indicative of the benevolent, unselfish nature of the company's owners, who always placed the success of the firm as a whole ahead of their own.
Henry & Peters, P.C.'s vision is to be your partner for accounting, tax and consulting services – recognized and respected for our commitment and contribution to the long- term success of our clients, employees and community.
Henry & Peters, P.C.'s mission is to provide the highest level of professionalism in every service offered in order to achieve the desired success of all who place their trust in us.
Clients: Honest relationships with open communication, and the pursuit of highest standards.
Employees: Healthy work/life balance, promoting positive team spirit and professional growth.
Community: Passionate partners, and highly active staff devoting hours to the community.
Our staff is comprised of more than 120 employees with diverse backgrounds and experiences including national, regional and local accounting firms, and various industry positions. This combination allows us to offer a practical and professional approach to our clients.
All members of our firm are committed to continuing education, as well, and participate in a minimum of 120 hours of continuing professional education every three years. This is accomplished through a combination of in-house, local, state and national training programs.
In addition, Henry & Peters' professionals are credentialed and hold memberships in the following:
American Institute of CPAs, Texas Society of CPAs, East Texas Chapter of CPAs, East Texas Estate Planning Council, Institute of Management Accountants, Association of Certified Fraud Examiners, National Advisor Network, and the AICPA G400 – largest 500 accounting firms in America.
"We have worked with Henry & Peters for several years and from the very beginning we were impressed with their extensive knowledge and expertise of the non- profit field. Their professionalism and organized manner of work makes our annual audit run so smoothly.  As well, they provide expert advice and education on changing laws and regulations keeping us in compliance. We highly recommend anyone looking for a great group of highly qualified professionals to work with, to choose Henry & Peters."
– CEO/CFO, Non-Profit organization
"I have had the opportunity to work with Henry and Peters for three years now. I cannot convey enough gratitude for their professionalism, thoroughness, and cooperative spirit. The entire Team is personable and extremely capable of providing the services needed by a client. Also, they are extremely helpful with any follow up that may be needed and are always willing to answer questions as an effort to assist you with the auditing process. We look forward to a continued relationship with Henry and Peters."
– President/CEO, Economic Development Corporation
"Henry & Peters CPA Firm's Financial Institutions team provides various services for us, including our annual independent audit, annual internal control assessment, tax return preparation, and annual 401K/ KSOP audit. The Partners have been valuable resources to our company, not only in routine tax and accounting matters, but also in more complex issues. Henry & Peters team members have worked well with our team members. An especially important and distinguishing characteristic of their service is their responsiveness to our questions. All managers and staff readily share knowledge and resources that help make our business better. Henry & Peters CPAs care about the success of our business, and it shows in their service."
– EVP/CFO, Financial Institution
"Henry & Peters has been a great asset to our company. Their breadth of knowledge and experience has proven invaluable over the years. Always quick to respond, they are a pleasure to deal with. We have the utmost confidence in their work."
– CFO, Oil & Gas Industry
"I have worked with Henry & Peters for more than 20 years and they have been great to work with. They are always quick to return my calls and answer my questions. They have always been very professional and responsive to my accounting and tax needs. I highly recommend them to anyone who needs help with their accounting or tax issues."
– Owner, Oil & Gas Land Services
"Henry & Peters have been trusted advisors for our business since we started our company in 2000. They have helped us in a variety of ways from our annual audit to filing our annual federal and state tax returns to helping us as we sold our company. We have worked with numerous members of the Henry & Peters team, and each one of them was amazing to work with. They were extremely knowledgeable and a great resource when we needed a sounding board as our company was growing and evolving. When an issue comes up, I know that all I have to do is pick up the phone to call, and they will be there for us. I treasure our relationship and know that it has helped me to be a better CFO for our company. I would highly recommend them"
– CFO, Software Company
"I've been referring clients to H & P for two decades. The thing I appreciate about everyone I've encountered there is the combination of expertise and outstanding client service and communication. The people I refer there are treated exactly how I would hope and the feedback I get for making the referral to H &P is always great."
– Managing Director, Wealth Management Firm
"Mostly, I just wanted to say thank you both for all you do! I could not be more blessed with an amazing CPA and assistant. I feel like you always have my back, and that's such a great feeling. Through the last 5-6 years, I have found you both to be incredible to work with, and my respect for all you do just grows and grows. I'm truly grateful to God for bringing you into my life!"
"The entire team at Henry and Peters has been my lifesaver when starting my new business. A QuickBooks® setup custom designed specifically for my business was provided along with all of the training needed to teach this non-accountant how to take care of my business on a daily basis. The H&P team then handled all of my quarterly payroll tax return needs, my income tax needs, and has been my consultant for the past 5 years as I have grown my business. I would not be where I am today without them."
"Our Company moved our business from one of the largest firms in the country to Henry & Peters nine years ago and have been very pleased. We had a longstanding relationship with the previous firm and were a bit anxious about taking on a new firm. We have utilized their services for large company audits, tax preparation, benefit plan audits, and several due diligence engagements. In each case, we have been very impressed with the quality of the personnel and the emphasis on producing quality work while utilizing good time management budgets. Henry and Peters is a valuable asset to our business. I would not hesitate to recommend them to a company/entity of any size."
– Treasurer, Manufacturing Company
"I have worked with numerous members of Henry & Peters over many years, and have found them to be professional, thorough, and courteous. Henry & Peters offers a unique blend of well qualified and highly technical professionals who provide their services in a common sense and cost effective manner."
– Local Attorney
"As a 35-year client, I recently turned to Henry and Peters for bookkeeping, payroll, and other accounting services. Outsourcing these functions has saved me the cost of an in-house bookkeeper, made our financial information more secure, and, most importantly, given me additional time to focus on my core business. Best decision I've ever made."
– Grant Administrator
"For 28 years I have experienced the very best professional service and advice from Henry & Peters. They have been an invaluable partner in the growth and operations of this company which started with 2 employees and now has over 50 employees. Today's business environment requires that a business owner align himself with an accounting firm that is on the cutting edge of technology and accounting principles which is why our company has chosen Henry & Peter's professional services."
– Owner, TV and Appliance Sales
"H&P has helped my business grow in countless ways. It gives me peace of mind knowing that their very competent staff has my company's best interest at heart. They are always professional and courteous, answering my countless questions and helping me keep my company's finances running smoothly. I consider H & P a very valuable asset and credit them with helping me maintain a successful and growing business."
– Owner, Residential/Commercial Construction
"Henry & Peters has been with our business since its inception. They patiently answered our questions and have trained us to do much of the accounting ourselves. They are friendly, fast, accurate, and thorough…everything we could ever ask for from an accounting firm."
– Physician/Owner, Emergency Medical Clinic
"Our relationship with Henry & Peters, P.C. is a very valuable asset to our company. We let them do what they do best, which is to take care of our accounting and tax obligations, so that we can do what we do best, which is managing our business."
– Petroleum Landman
"The Alzheimer's Alliance of Smith County has found that outsourcing our accounting needs to Henry & Peters has been both cost-effective and beneficial. They have been accessible and helpful to our organization which, as a small non-profit, does not have accounting staff. When we implemented Quickbooks® at our office the transition was smooth and our staff was well-trained. Henry & Peters has been a real asset to us as we work in tandem to ensure "Best Practices" compliance for the protection of our 501(c)(3) non-profit status."
– Alzheimer's Alliance
"We place a high value on the long-lasting professional relationship we have enjoyed with Henry & Peters. Responsive always, they have conducted themselves with the utmost in high business standards and integrity. Today's complex financial environment emphasizes the importance of a partner such as Henry & Peters to our organization."
– EVP & CFO, Bank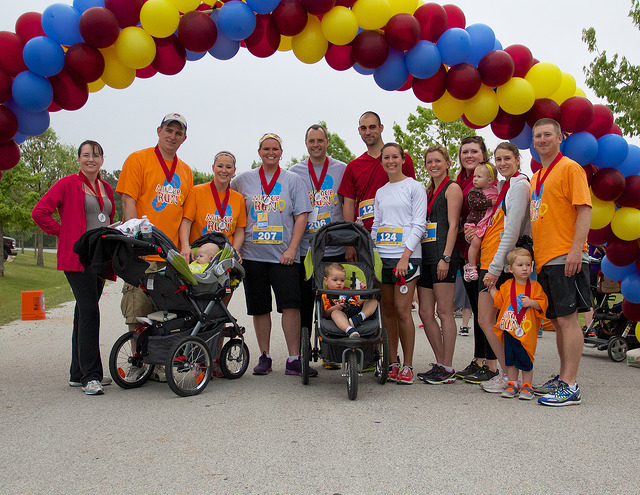 Henry & Peters is dedicated to providing a positive work environment that promotes individual growth and relationships, as well as community involvement. Have a look at some of our events and activities.
"Our company moved our business from one of the largest firms in the country to Henry & Peters nine years ago and have been very pleased."